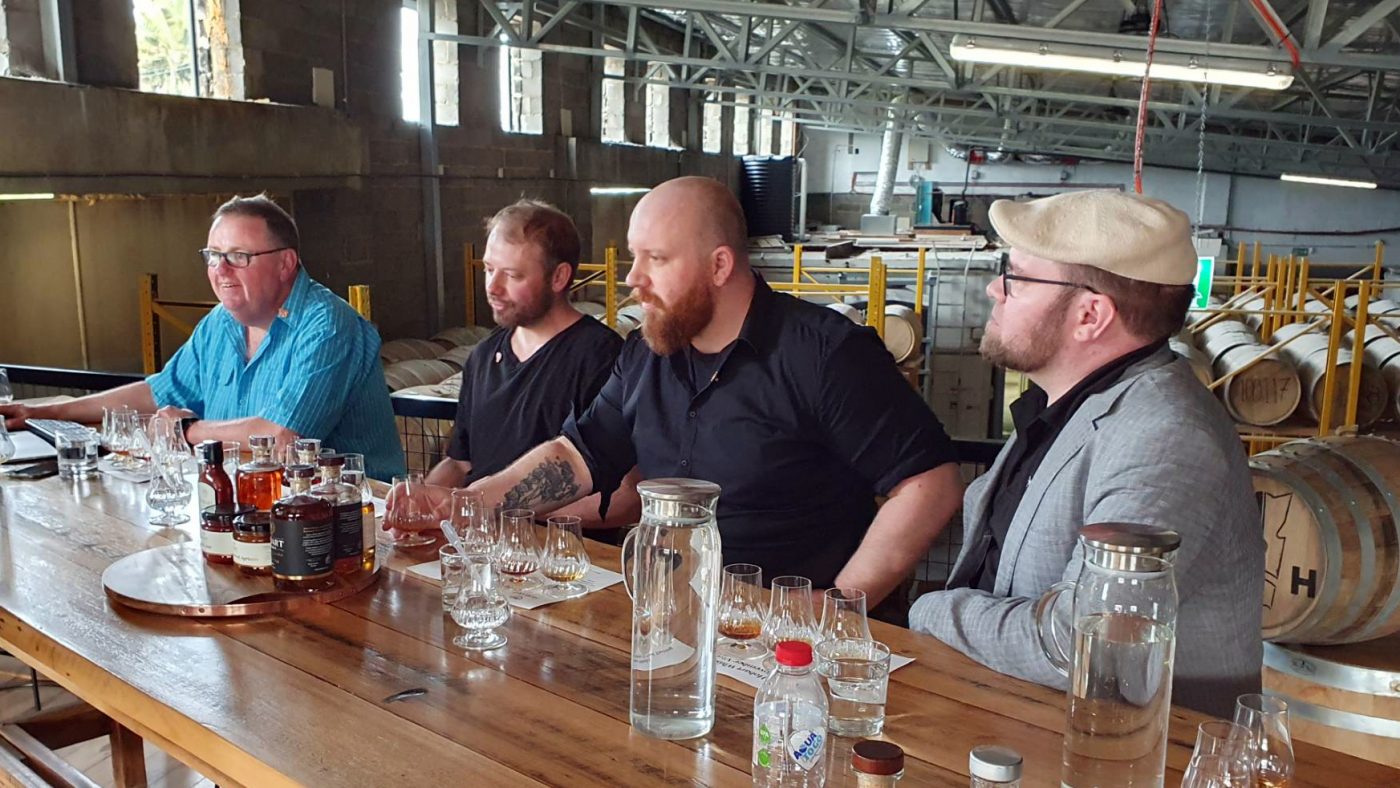 Hobart Whisky: Beer Cask Series.
An exploration of two loves, brewing and whisky.
For the past twelve months we have been working on a barrel aged beer program for pilot batch brewing.
Our intentions were to make good beer, that also complimented our style of whisky.

We're excited to introduce to you our range of limited beer cask finished whisky.

After our short break, as a part of the release we will be hosting another virtual tasting to celebrate the launch where you can purchase a pack, and join us on Zoom while you sample all four beer cask finished releases.
The first of the series is a Porter finished cask.

This whisky has been matured in 40L American oak ex-bourbon casks for three and a half years before finishing for ten months in an 80L cask that has been filled with a Porter beer brewed by our own head distiller, Ben James.

The result is a whisky that is sweet, with plenty of toasted malts. Light fruits, rich chocolate and burnt toffee on the palate and a lengthy, sweet nutty finish.

This release will have the largest number of bottles available for our beer cask series, available for purchase on the 15th March for dispatch the first week of April.
At the same time we will be going live with our Tasting pack for our virtual event to be held on the 1st of May.

This virtual tasting will include the aforementioned Porter Cask, and previews of the three other beer casks from the series.

Our virtual tastings started in April 2020 where we were joined by guest presenter John Yankovski (@whisky_and_sound).

One year on, we're excited to have John joining us again, in person, for our virtual tasting who will no doubt bring next level insight with his beer and whisky experience.
During our virtual tasting, for those that join us, we will be posting a link to purchase the second bottling from our beer cask series, Ginger Beer cask finish.

This release has been matured in American oak ex-bourbon for four years before finishing in a 40L Ginger Beer cask, again brewed by Ben James.
Our third release from our beer cask series is an Imperial Stout cask finish which is currently sitting in our 40L American oak ex-bourbon cask that we charred and used to serve from during the 2019 Winter Feast.


The last of the series is a Smoky Rye Red Ale, the smallest of the series and is currently finishing in a 20L ex-Pedro Ximénez sherry cask.
Planned release dates for these bottlings are as follows;
15th March – Porter cask and Virtual Tasting Pack (dispatch first week of April).
1st May – Ginger Beer cask whisky
14th May – Imperial Stout cask whisky
28th May – Smoky Rye Red Ale cask whisky
These were a lot of fun to work on and we're excited to release and share them with you.
Over the coming weeks we will go into more detail on each individual release with tasting notes and detail on the beer that was made.
Due to the limited volume on some of these casks, we will only be releasing 100 virtual tasting packs for our virtual tasting event.

To ensure you don't miss out, be sure to follow us on social media, and subscribe to our newsletter.
We will let you know once the packs and releases are live on our website for purchase.