We are family-owned distillery, established in 2014, based in Hobart, Tasmania. Our philosophy is entirely based around making whisky for us, that we love, and want to share.
Despite being one of the first ten Tasmanian distilleries, we flew under the radar for quite a while, and in this time concentrated on making whisky.
Not all expressions are the same, and it's important to us that everyone can drink them as we do. We hand bottle and label each release in our distillery with each bottle having its own identifying bottle number.
Hobart Whisky bears testimony to our Tasmanian malted barley, fermented with style, gently distilled with grace, then sweetly rested in hand selected oak casks. Each small batch holds its own distinctive characteristics and signature.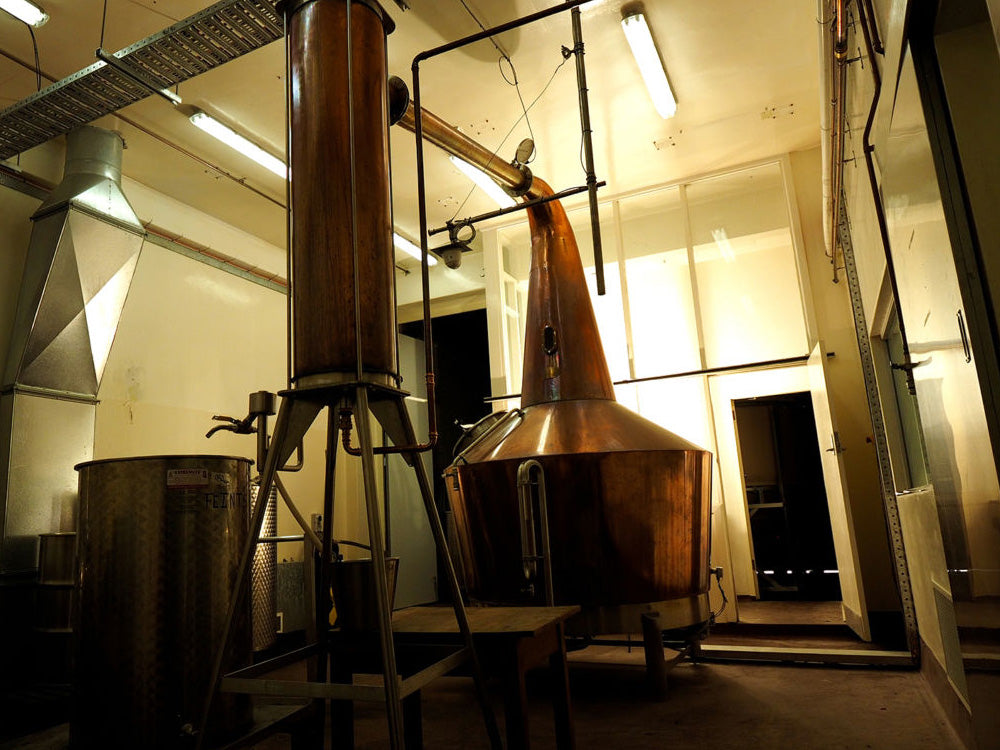 Production
While early distillations were done with wash from Moo Brew, our plan was always to be responsible for our own brewing. In 2017 we were able to set up our brewing and fermentation system which has been utilised since.

Production is done solely on a locally manufactured 1800L Knapp Lewer copper pot still. Each run is considered individually with cut decisions based purely on scent and taste.
For us it's all about the perfect control of our product and telling a story.
Our Single Malt Whisky
Early in our whisky journey we made the decision to mature predominantly in American oak ex-bourbon casks.

This decision was made for a number of reasons, primarily, the ex-bourbon gives us a great opportunity to impart our favourite flavours and characteristics in to the whisky, and secondly, we love ex-bourbon matured whisky which ties in to our ethos of making whisky we love.
We have found a lot of success in matured in ex-bourbon and then finishing in other casks including fortified and wine casks, among other things.
This allows us the ensure the whisky matures and is balanced without picking up too many tannins, being too cask driven yet youthful.
We do have various other casks that will go full term, however it's yet to be seen how we will use these, they may yet be split and married with other casks to ensure we can make the perfect whisky, for us.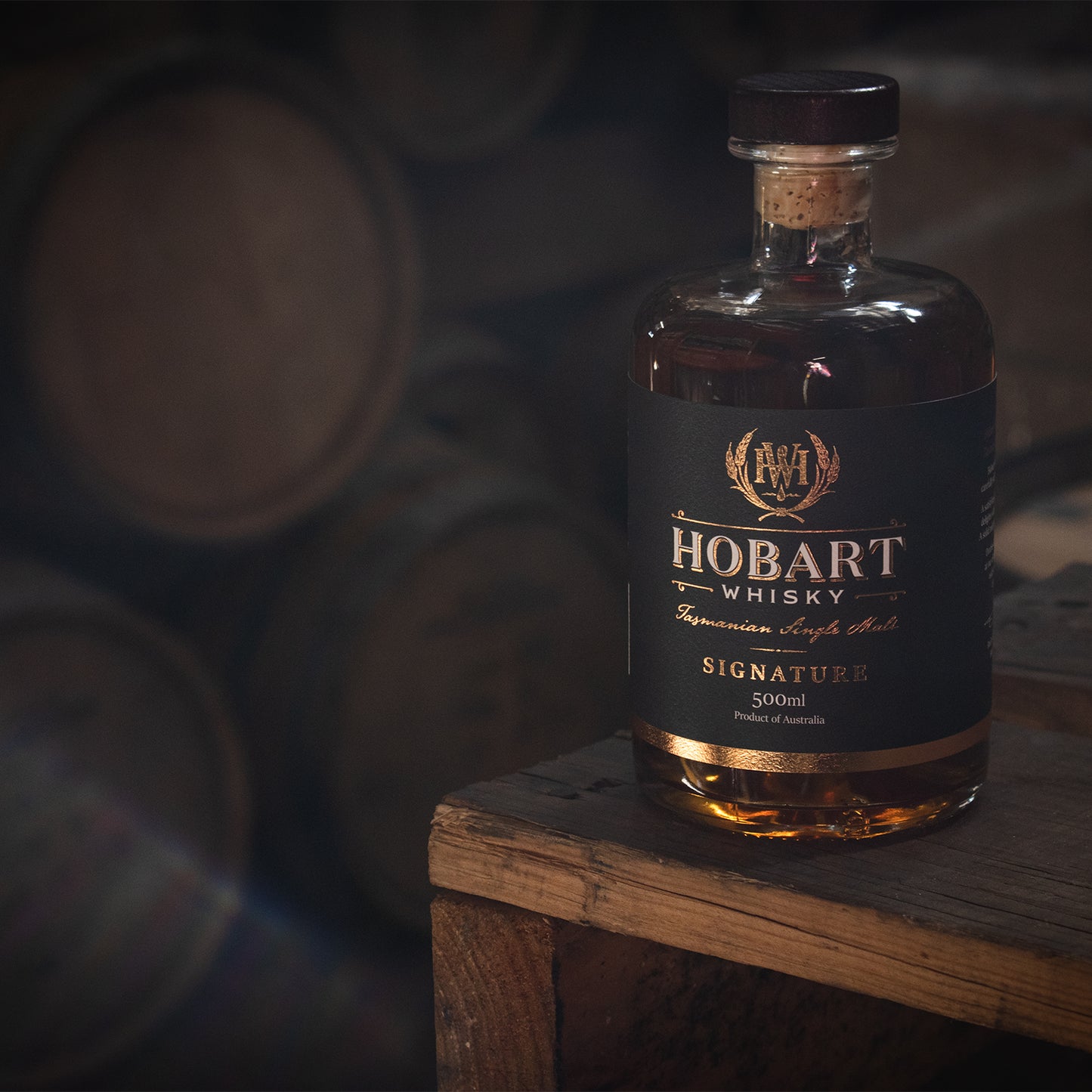 Hobart Whisky Signature
In 2020 we were able to bottle and release our first core range expression, Hobart Whisky Signature.
Prior to this, for two years we were been releasing whisky on a release-by-release basis. Our labelling and packaging have been designed to allow us to release any cask finish, abv, and number of bottles with relative ease.
While this was received amazingly well, and we will continue to do this, it has some caveats which include making it difficult for customers, bars, restaurants and off-premise stores to reorder products they love.
Hobart Whisky Signature is a single malt made from a marriage of small carefully selected American oak ex-bourbon casks. A satisfying light ex-bourbon cask single malt that delights with a solid malty foundation, some gentle spice and a long, complex finish.
Our goal is to make Hobart Whisky Signature consistent and readily available for you from your favourite bar, restaurant, or bottle shop.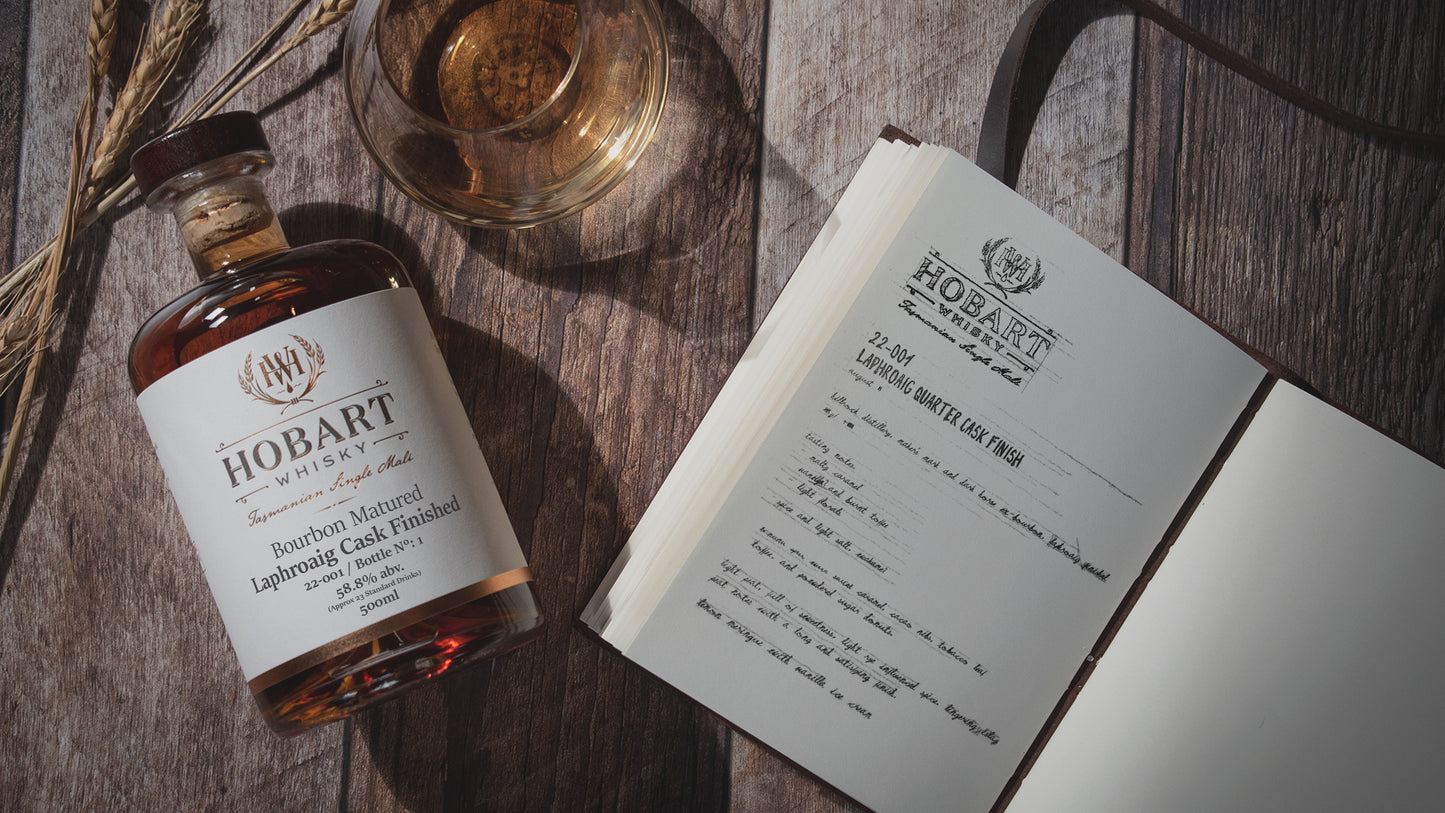 Limited Releases
Alongside our Hobart Whisky Signature we continue to release other limited bottlings. These can be other cask finishes, or cask strength bottlings that are outside the style of our Hobart Whisky Signature.
Previously this has been fortified casks, a beer cask release, and even our maple finished casks for the 2019-2022 Dark Mofo Winter Feast events.
For a full list of releases, check out our releases page.
Pedro Ximénez Solera
In May 2022 we launched a new core range whisky, Pedro Ximénez Solera.
This joins our Hobart Whisky Signature as a core range whisky, consistent and always available.
Replicating traditional solera methods, we have bottled only a portion of this release, ensuring that over time we can continue the tradition of fractional marriage both acknowledging traditional solera systems, and ensuring quality and consistency between batches.
A nose dominated by dates, raisins, rich, red fruit and toffee apple, accompanied by light melon, vanilla and subtle tobacco.
The palate is rich and chewy, with notes of jam, pastry, light leather and pantry spice. As a syrupy sweet and thick whisky, it is full-bodied and coats the palate, a fine balance between savoury and sweet. Wine gums and light honeycomb notes come through with subtle dark chocolate and marmalade.
A medium long finish, savoury and lingering, with chocolate orange, fruit notes and slightly drying.